February 6 4pm-8pm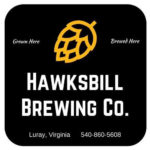 The Hawksbill Brewery is featuring Performing Arts Luray as their "Pints for A Cause" event for the month of February!
For each pint purchased, Hawksbill Brewery is donating $1 to support the arts.
Performing Arts Luray will unveil the upcoming performances for 2020. Door prizes will be awarded!
We hope you will join us for the night of fun and great handcrafted beers.
Your attendance is supporting not only the arts, but a local business as well!